Welcome to CAG Truck Capital
Where the loans are simple, the people are honest, the journey is pleasant and the destination is peace of mind. Let CAG Truck Capital guide you through that journey with your next truck or engine overhaul loan.

COMMERCIAL TRUCK FINANCING
Providing Owner Operators with Commercial Truck Financing & Semi Truck Financing – Even With Bad Credit!
Commercial Truck Financing

ENGINE OVERHAUL FINANCING
We finance major engine overhauls at all certified truck repair facilities. Make that truck you love run like new again with an overhaul!
Engine Overhaul Financing

TRUCK FINANCING TESTIMONIALS
Actual owner-operator truck drivers share testimonials of their truck or overhaul finance experience with CAG Truck Capital.
Financing Testimonials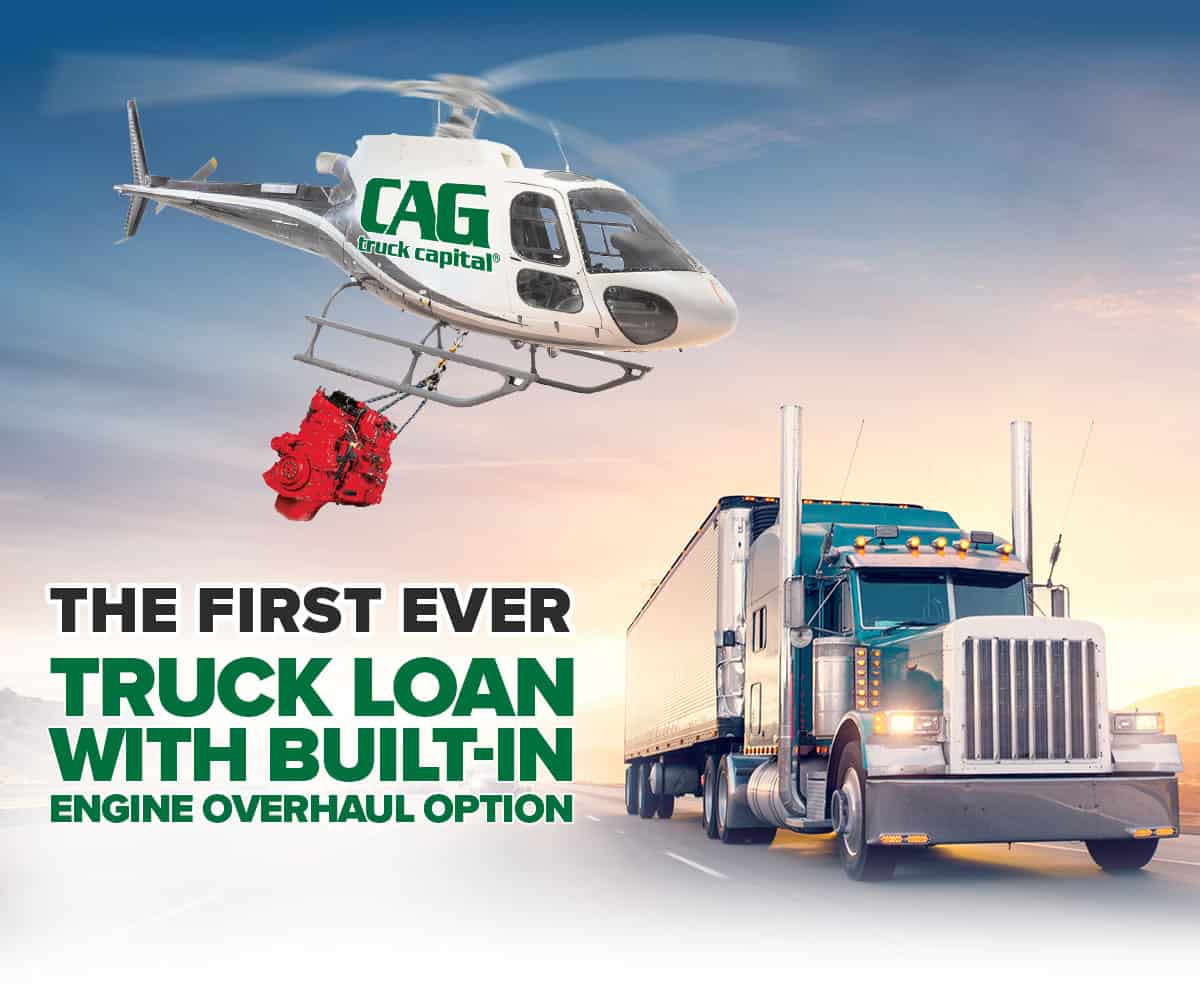 Financing For Higher Mileage Big Hoods WITH BUILT-IN ENGINE OVERHAUL!
If you've been searching for a truck within your budget but are frustrated that most have high miles/hours? CAG's Hybrid Truck/Engine Overhaul Loan allows you to take advantage of the huge savings from a high mileage truck, but provides peace of mind knowing that you've got a certified zero-mile overhauled engine with a nationwide warranty when you need it – WITHOUT AN INCREASE IN MONTHLY PAYMENT – EVER! Get in that dream truck today with a CAG Hybrid Loan. Simple application, quick approvals for bad credit, great credit, and everything in between.
LEARN MORE HERE
COMMERCIAL TRUCK FINANCING & OVERHAUL FINANCING FOR BAD CREDIT, GOOD CREDIT AND EVERYTHING IN BETWEEN
CAG Truck Capital provides owner-operators and truck dealers with commercial truck financing even with bad credit. We loan our own money and make our own finance decisions in-house. For over 40 years, we have listened to our owner-operator's stories and get truck loans approved quickly and easily, even when everyone else said no. If you need truck financing, we can help. Already have a truck you love that's getting tired? Let us help you make it run like new with a major overhaul! Apply online 24/7 – it's never been easier!
We Let Our Customer Testimonials Speak For Themselves
We are very proud to have dozens of actual owner-operator financing testimonials from this year. At CAG, we simply treat people well, get the job done and exceed expectations every time.
Need An Engine Overhaul?
If you are facing an engine overhaul and have questions about what it will cost or what options you have. We have a handy guide to understanding the cost and various choices that you will face.
Engine Overhaul Tips
Rates vary according to risk, collateral age and value, credit score, term of loan, experience, and other considerations. Not all who apply will qualify. Rates starting as low as ten percent Annual Percentage Rate.  For additional information, please contact CAG Truck Capital, LLC. – 4 Hillman Drive, Suite 104, Chadds Ford, PA 19317.